WE TEED UP A
WHOLE NEW BRAND
Branding
Website Design & Development
App Design & Development
Logo Design
Multi-Channel Advertising
Social Media
Merchandise
For those about to rock…and golf. Golf Rock is a relatively new genre out there, and the Home of American Golf is a perfect place to declare the hub. First Flight Agency has been involved in the creation, development, broadcasting and marketing of this emerging nationwide brand.
A key factor driving the branding for Golf Rock was to make the connection between rock music and the game of golf, two things that aren't usually associated. Designing primary and secondary logos has given us more options in our marketing endeavors. By using simple, universally recognizable symbols of headphones, a golf ball, and a golf gloved hand throwing up the "rock on" hand gesture, we created distinct and flexible imagery for this brand.
Golf Rock: Web/Print Advertising
Golf Rock's advertising embraces the link between the music genre and the game. Blending golf and rock language into quick one-liner puns online and colorful, 1980s-esque concert poster-style print ads have delivered the promotion of the nationwide station in a fun, irreverent way.
As a new brand, we were afforded the opportunity to articulate and define our message straight out the gate. Posting for a lifestyle brand has to be authentic. So, we hit the courses regularly and connect with Golf Rockers on the greens, at the clubhouse, or watching tournaments. We also include shared content that fits the Golf Rock attitude and lifestyle.
In an effort to "meet them where they are," we were sure to include Golf Rock on the ever-popular Spotify app to attract the younger generation of golf rock enthusiasts. A carefully selected playlist on the Golf Rock profile donning the "rock on" hand gesture logo, gives listeners a taste of the full breadth of the golf rock genre.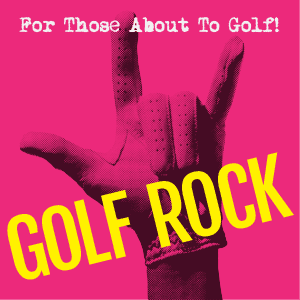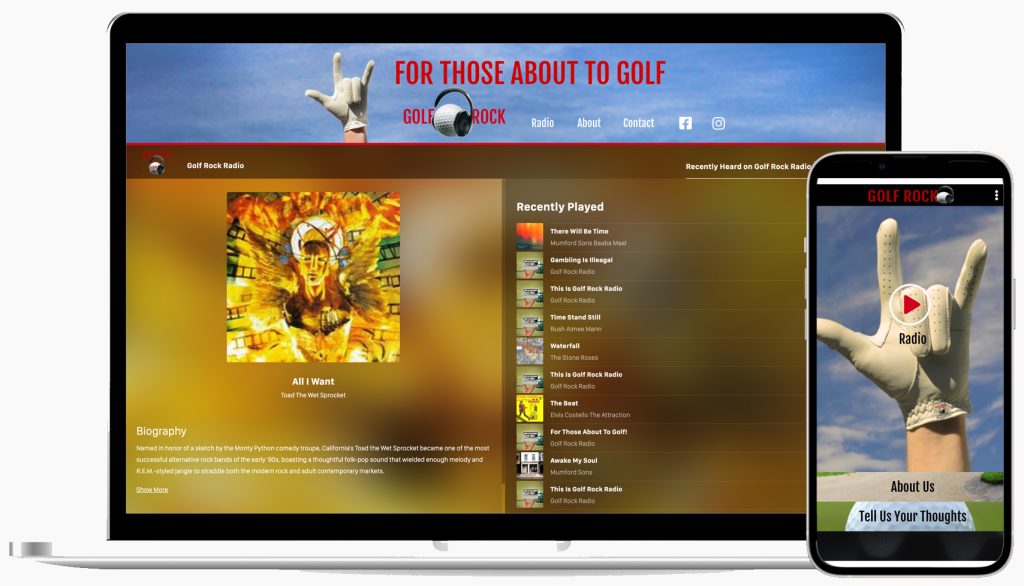 Our team created and maintains the online station for Golf Rock. The broadcast can stream directly from golfrock.com or via a downloadable app for iOS and Android platforms. The website includes band biographies and other info pertinent to each track on the playlist. Our simple, clean designs for the app and website allow easier access to the music, ways to connect to the Golf Rock team and future expansion.
From golf shirts to koozies, there are plenty of options for golf-themed swag. Almost any piece of golf equipment can be easily branded for promotion. With playful logo options from the headphone-wearing golf ball to the "rock on" golf glove, we are sure to find endless ways to generate fun and excitement for this brand.